RecruitFirst Taipei awarded grade A in the 2021 accreditation program
---
$image_id = get_post_thumbnail_id(get_the_ID()); $small_image_url = wp_get_attachment_image_src($image_id, 'grandnews_blog', true); $image_alt = get_post_meta($image_id, '_wp_attachment_image_alt', true); ?>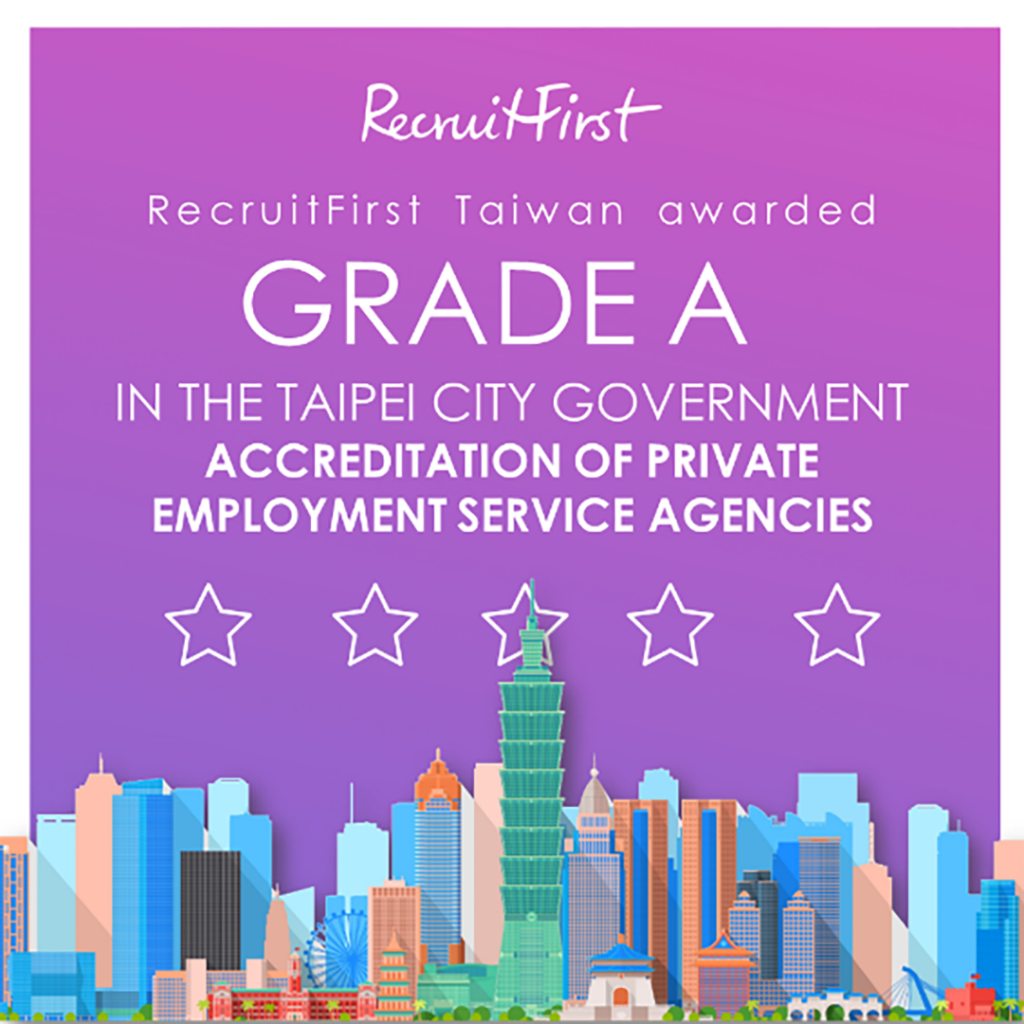 HRnetGroup is proud to have achieved stellar results in the Taipei City Government's Accredited Private Employment Service Agencies for 2021, which details the accredited agencies that provide employment services for domestic workers.
All four of HRnetGroup's brands in Taiwan have been awarded Grade A in the 2021 Taipei City Accreditation Program. This includes HRnetOne, PeopleSearch, RecruitFirst, and Recruit Express. This is the fifth year in which HRnetOne and PeopleSearch have been awarded Grade A in this evaluation.
Private employment service agencies are evaluated based on standardisation in contractual records as well as the stringency in personal data privacy protection. These assessments are meant to motivate employment service providers to provide an excellent quality of service to both job seekers and employers. The A-grade accreditation is an excellent demonstration of the rigorous service process, professionalism, and high service quality of every HRnetGroup brand.
We are grateful for this recognition from the Taipei City Government, and also the support of our clients and contractors. This 2021 Taipei City Accreditation Program award is representative of the hard work and commitment that every single one of our consultants has put into maintaining high service standards. The combined efforts of each individual have allowed the Group to achieve this level of success.
Headquartered in Singapore where it was founded in 1992, HRnetGroup is a leading recruitment and staffing firm with 13 offices in Asia. HRnetGroup first entered the Taiwan market in 1998, providing professional recruitment and flexible staffing services. In 2020, HRnetGroup placed 7,022 candidates into mid to senior level positions, and helped 42,998 people secure employment in contract and temporary roles.
In 2022, as the group celebrates its 30th anniversary, we extend our thanks to those who have help us along our journey, and continue to develop and grow in order to provide top-notch service in the job market in Taiwan.